Study of the Revelation 12 woman
observations by Jen Shroder 12/2010
free to repost

"A woman."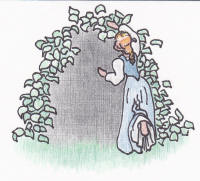 Did you notice there are no virtuous descriptions as afforded the Virgin Mary, mother of Jesus; or Sarah mother of Isaac; or Rebekah mother of Jacob/Israel? Those women were given the distinctions of "favored of God" or "almah" or as with "the incorruptible beauty of a gentle and quiet spirit" or "holy women" but not so for the Revelation 12 woman:
"1 And there appeared a great wonder in heaven; a woman clothed with the sun, and the moon under her feet, and upon her head a crown of twelve stars:

2 And she being with child cried, travailing in birth, and pained to be delivered.

3 And there appeared another wonder in heaven; and behold a great red dragon, having seven heads and ten horns, and seven crowns upon his heads.

4 And his tail drew the third part of the stars of heaven, and did cast them to the earth: and the dragon stood before the woman which was ready to be delivered, for to devour her child as soon as it was born.

5 And she brought forth a man child, who was to rule all nations with a rod of iron: and her child was caught up unto God, and to his throne".
She is merely, "a woman."
And what is the great wonder in heaven? Is it that she is clothed with the sun, the moon under her feet and a crown of twelve stars? Jesus provides us with robes of righteousness, we throw our crowns in adoration at Christ's feet. All glory and power are His. Praise God. But the wonder is not the Revelation 12 woman or what she is wearing. The wonder is Christ and what He does.
"A crown of twelve stars." Stars have also signified angels, especially in Revelation. That twelve angels would gather to form a crown, is this something that she deserved by great works or faith? If so, where are the words of accolade? Why is God silent about her character? And why is she here, in the middle of Revelation?
I believe the "wonder" is truly what angels desire to look into and are not recorded as receiving themselves: grace. If a way of salvation is given to the angels that fell, the Bible is silent about it. The Good News that God so loved the world that He gave His only begotten Son, that whoever believes in Him should not perish but have everlasting life…WHOEVER believes. Would God pour such mercy and grace even unto a woman of our modern times, so lost in the culture of these United States that she is even unaware how great are her sins? Born and raised in a culture where virginity is often despised, thrown away to enter the 'sophisticated' arena of sex as a sport? As children we are deluged with images of our favorite movie star hopping into bed with her flavor of the month to live happily ever after and we applaud, until her next movie premiere where she lands a different husband in the same way.
We looked for love in all the wrong places, swilling wine and daring each other to try whatever street drugs are popular at the time, listening to the world tell us to lie down and dismantle that inconvenient surprise of a child until Prince Charming (who never comes) sweeps us off our feet…we just slept with the wrong prince, somehow that rarely happens in a Julia Roberts movie. Wait, mom, how did you meet dad again? When did June Cleaver become Lady Gaga?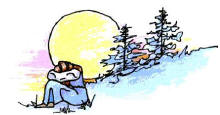 Meanwhile our public schools actually instruct our children to participate in religious acts of worship to other gods. Our courts rule this as acceptable because it is done in "demonstration" while purposely giving children the impression that no god is any better than any other god, to role them all up and throw them all away…it is the wolf in "critical thinking." Somehow the academic elite decided to empower children to reject their parent's discernment, give them trash as information and tell them to think for themselves based on what these credentialed atheists believe, to act like harlots born of apes in a world without morals, just decide your own individual "values," oh and here's a condom...
And so our society has come to this and the Revelation 12 woman represents this age. I submit to you that the Scriptures do not place the Revelation 12 woman on a pedestal for a reason. Like Mary Magdalene, like the woman at the well, there are no harsh labels of judgment. Though wholly unworthy of the great sacrifice and gift of Christ, these women put their trust in Him. I believe this Revelation 12 woman grew up lost in this decadent generation, yet cried out in torment trapped in these times to her Lord and Savior and was answered.
And as the Lord patiently waits as our generation rushes down this road of destruction, watching young men and women drowning in lies about who they are, of right and wrong, of goodness and evil, defiling their own purity as trash, deceived in a culture turned upside down, trained to blaspheme their only hope…God sees and knows and calls us to Himself out of our desperate situation, like the Good Shepherd that leaves His flock and goes after the one.
I believe the wonder in heaven of Revelation 12 is that Christ came even for us. That as the time of the Gentiles comes to a close, as the perversions and decadence reaches a shrill peak of crescendos…God sent His Son even for us. His light cuts through the darkness and His power and glory reaches the lost, even today. Even in a nation that is seen by the world as a "Christian" nation, yet has fallen so far and so fast that we've begun funding abortion mills worldwide... O most unholy of nations, to represent Jesus Christ while spreading our filth and shame under the guise of freedom, infecting it like a cancer, dancing a dance of adultery, pornography, pedophilia, fornication, perversion, rape, murder, our nation is going under, and yet, God will hear a single cry and answer our call.
Some will argue that the woman is the virgin Mary because her man child is to rule the nations with a rod of iron. But in Revelation 2 it says:
These things says the Son of God…and he who overcomes, and keeps My works until the end, to him I will give power over the nations—

'He shall rule them with a rod of iron;
They shall be dashed to pieces like the potter's vessels'—

as I also have received from My Father; and I will give him the morning star. "He who has an ear, let him hear what the Spirit says to the churches."'
Jesus Christ ultimately rules with a rod of iron, but right here it shows His intention to delegate some of the work.
Therefore I believe the Revelation 12 woman literally exists, that this particular wonder is a wonder in heaven because of the great lengths His mercy extends. Few of us appreciate that mankind are not the only ones watching. There is a spiritual realm that we do not know yet but will.
"for we have been made a spectacle to the world, both to angels and to men."(1 Cor 4)
Everyone wonders why America is not named in the Bible, I'm starting to wonder if we are "the time of the Gentiles," because what nation has been like ours?
"And Jerusalem will be trampled by Gentiles until the times of the Gentiles are fulfilled" (Luke 21)
We began as a Christian nation, a light to the world, we've sent out so many missionaries faithfully carrying the Good News of Christ Jesus. The world still sees us as a "Christian" nation, that's why President Obama tries to deny it. It's also why, when we spread the most unholy practices throughout the world, and are seen as representatives of Christ, it just cannot continue, and judgment begins with the house of the Lord.
It's coming.
The Revelation 12 woman. I believe she is a modern American woman representative of our culture and the despair that engulfs her. Desolation. There are no words of beauty or holiness for this woman because she threw her purity away with both hands, unaware of her loss or condition yet cried out to the Lord in her desperation and sorrow, trapped in this ungodly time. The wonder is not the woman. The wonder is that Christ reached past all the depravity and perversion willing to save generations of lost and dying children who call out to Him still.
But then, that's the wonder, the amazing wonder of it all…that Christ would offer such amazing salvation to us, even to the least among us, because of what He did. That even while we were sinners, Christ loved us. Came for us. Died for us. And rose again. And because of such mercy and grace, that for those who receive Him, He picks us up, washes us off, dresses us in fine linen and even a crown! He gives us so much that we don't deserve. Praise God for His mercy and grace!
"Likewise, I say to you, there is joy in the presence of the angels of God over one sinner who repents." (Luke 15)
God knows your struggles, He sees how we are assaulted by confusion each day. He calls to you now, receive Him while there is still time, because time is running out.
Receive Him and live.
***
Are you willing to turn your life completely over to Him? If you are, pray this prayer "Dear Father, I know I have sinned. I believe Jesus died for me. I ask for Your forgiveness right now. I choose to turn from my rebellion against You. Jesus, please come into my heart and take over my life. Fill me with Your Holy Spirit and help me to serve You. In Jesus' name I pray. Amen."
If you prayed that prayer, welcome! Life begins with just such a heart. But it's important to read what He wrote you, I believe starting with the book of John is a good place to start. And find fellowship. Pray and ask the Lord to guide you. Contact us and we'll pray for you too. God bless you.
See also
Revelation 12 Series
(it has taken me a long time to get here)