THANK YOU TO OUR TROOPS!
More views | 1 | 2 | 3 | 4 | Video 1 | Video 2
Photos of an Air Force C-130 releasing flares to repel heat seeking missiles. The pattern formed by these "decoys" is how they got their name... 'angel decoy,'

Because maneuvers are usually in remote areas and over water, the general public does not get to see these exercises.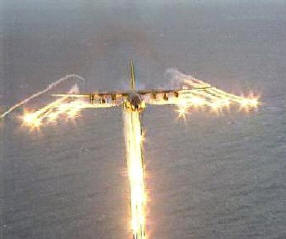 Click on image for larger view
If anyone knows who took these shots, many websites would like to credit them, thanks...